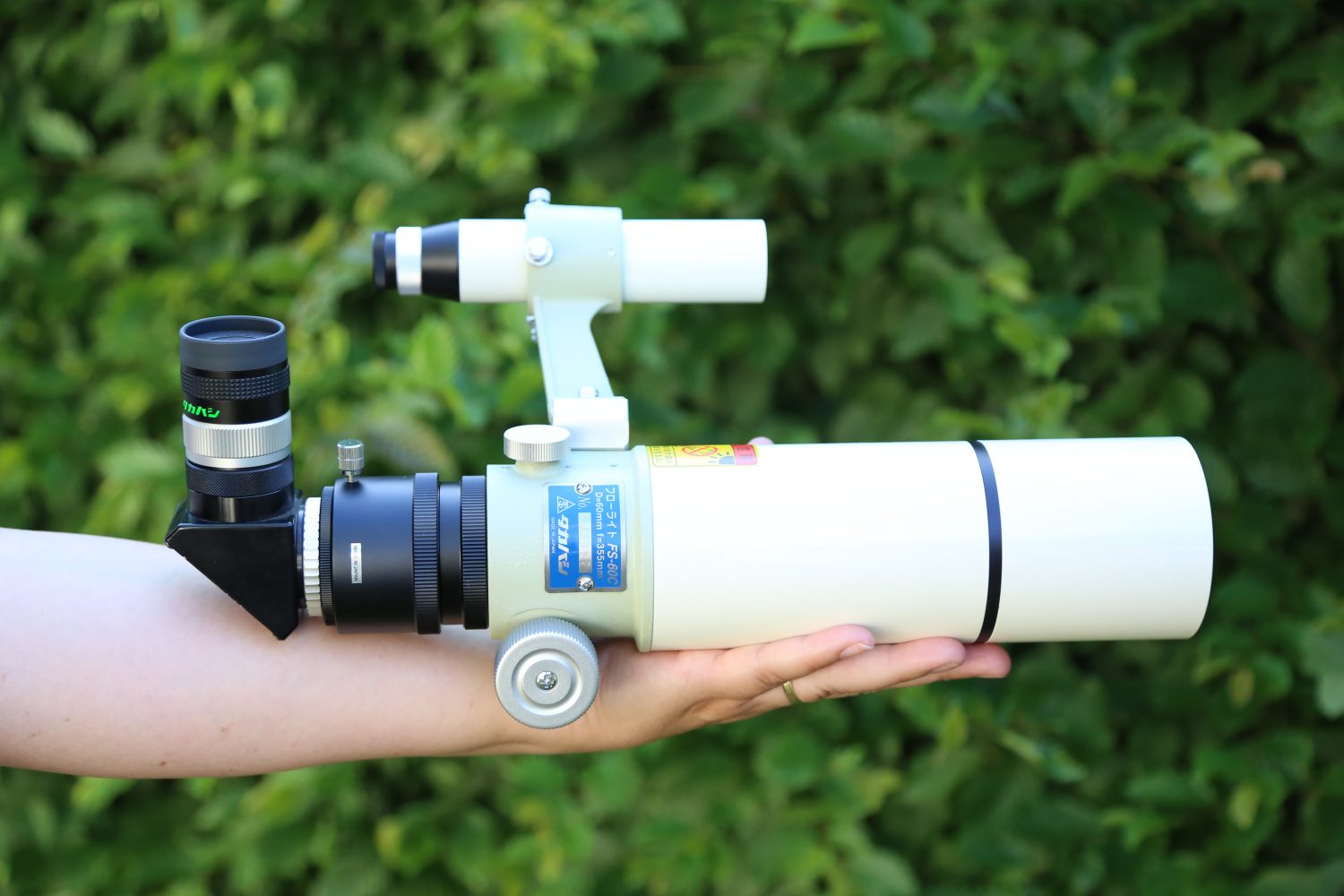 The Takahashi FS-60CB telescope, shown here with optional finderscope, 2-inch back, zenith prism and eyepiece.
The little scope that could. And might be used most often.
What is the perfect telescope? Right, the one you use most often! As many of you own several scopes, I bet that the most used telescope is not the largest you have. Nor is it the most expensive. But it may be the most compact.
This is true for me. The scope I use most often is Takahashi's FS-60CB fluorite refractor. You may neglect it as only having 2.4-inch aperture, but for me the "Baby-Tak" is a perfect compact package for all sorts of observing. Especially if you travel a lot as I do, this scope delivers. Mine has seen the deserts of Namibia, the Australian outback, Chinese cities and Scandinavian snow storms.
Introducing thoughts
What if there was a telescope that is just 1kg in weight, but shows you the division in Saturn's rings? What if there was a scope that could be disassembled into parts not exceeding 20cm, but give a whopping 7° wide field experience. What if there was a scope that you could rearrange to a longer focal length or larger aperture in minutes without losing focus? What if there was a scope that would do all this while being manufactured to highest standards and a beauty in finish? What if that scope cost well under 1000 dollars?
If this scope exists in your dreams, the counterpart in reality that comes closest is the Takahashi FS-60.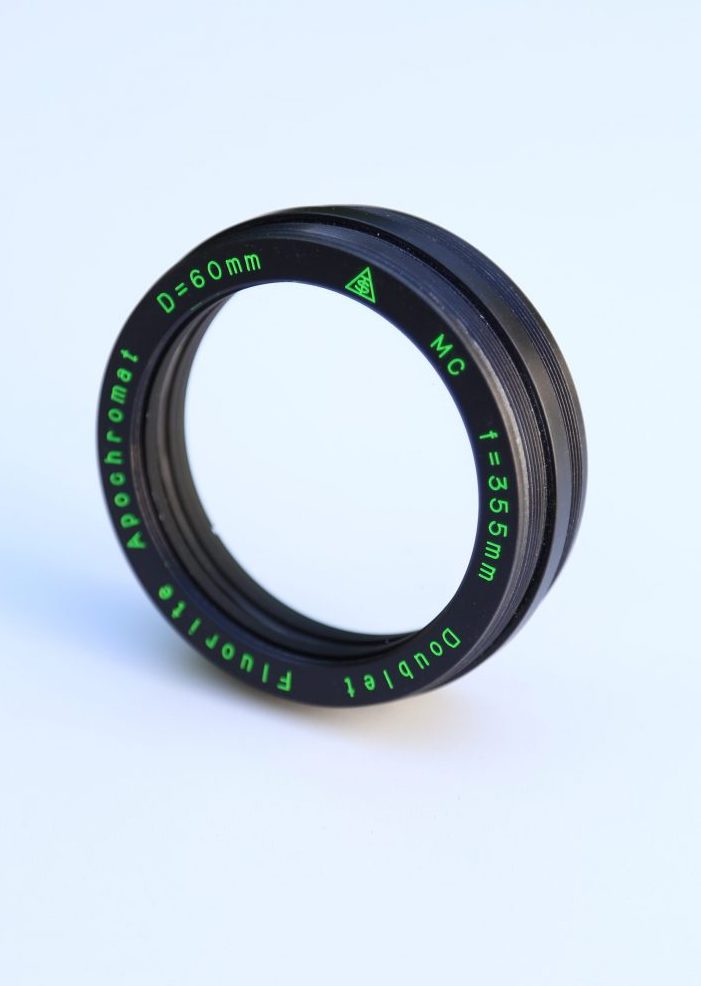 Optics
Main data
60mm free aperture
355mm focal length, which leads to a focal ratio of f/5.9
Design
air spaced doublet, fluorite front lens
lens cannot be collimated
made by Canon Optron, who also do the Canon fluorite photo lenses and Borg fluorite telescopes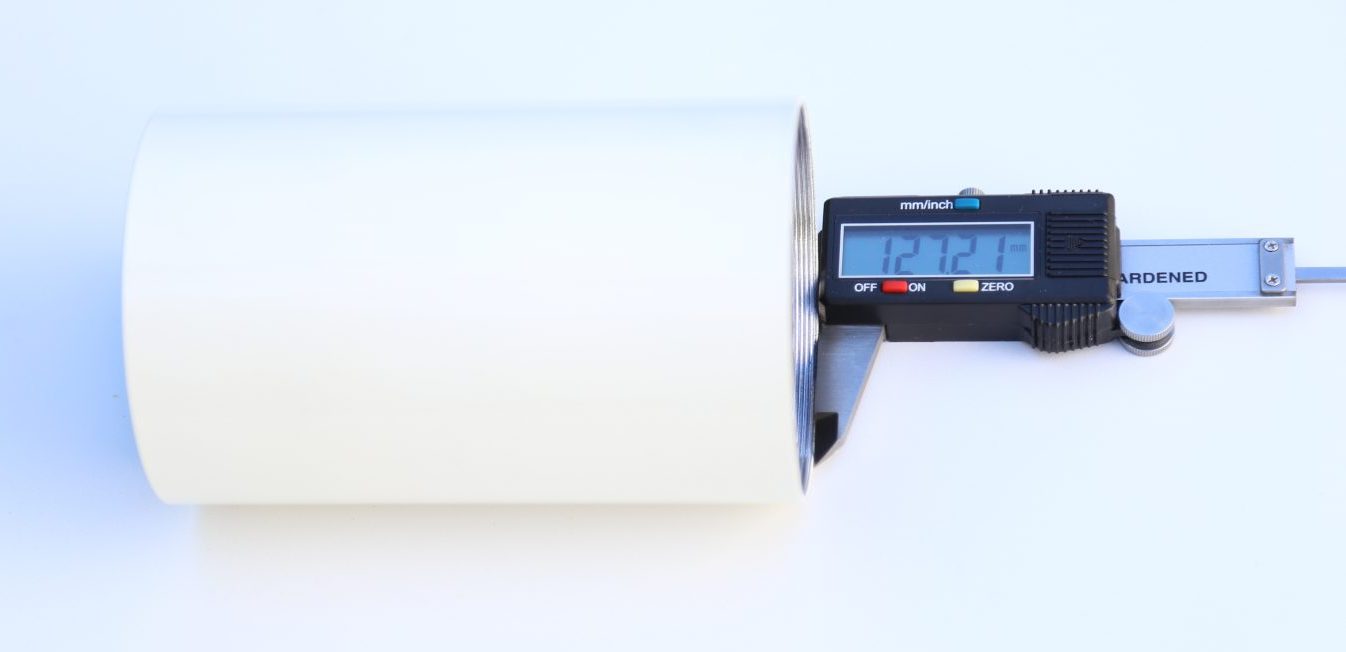 Mechanics
Tube
80mm outer diameter
can be disassembled into dew cap, objective lens, tube, and focuser
remaining tube is 127mm long
dew cap is 86mm not retractable, it can be unscrewed
made from metal
no internal baffles
weight 1060g without finderscope, clamshell, eyepiece
I like the clear and simple design of the tube. The latest scopes have a blue ring with Takahashi logo. There are several tube length variants:
CB: 127mm tube length, the one sold currently
C: 145mm tube length, the first ones sold, discontinued
CSV: 105mm tube length, optimized for binoviewers, discontinued
Focuser
55mm drawtube, but standard barrel only 1¼-inch
25mm of travel, which is not much
comes with four adapters which use Takahashi's 48mm and 36.4mm threads
very nice visual back with plastic ring and plug with Tak logo
extra visual back required for 2-inch eyepieces
in most cases, an extra adapter is needed. To use it the visual back has to be replaced.
I like the focuser in use, it is very smooth, and can be fixed in any position. There is no fancy fine tuning knob. For very heavy equipment like big cameras, photographers might like something more sturdy.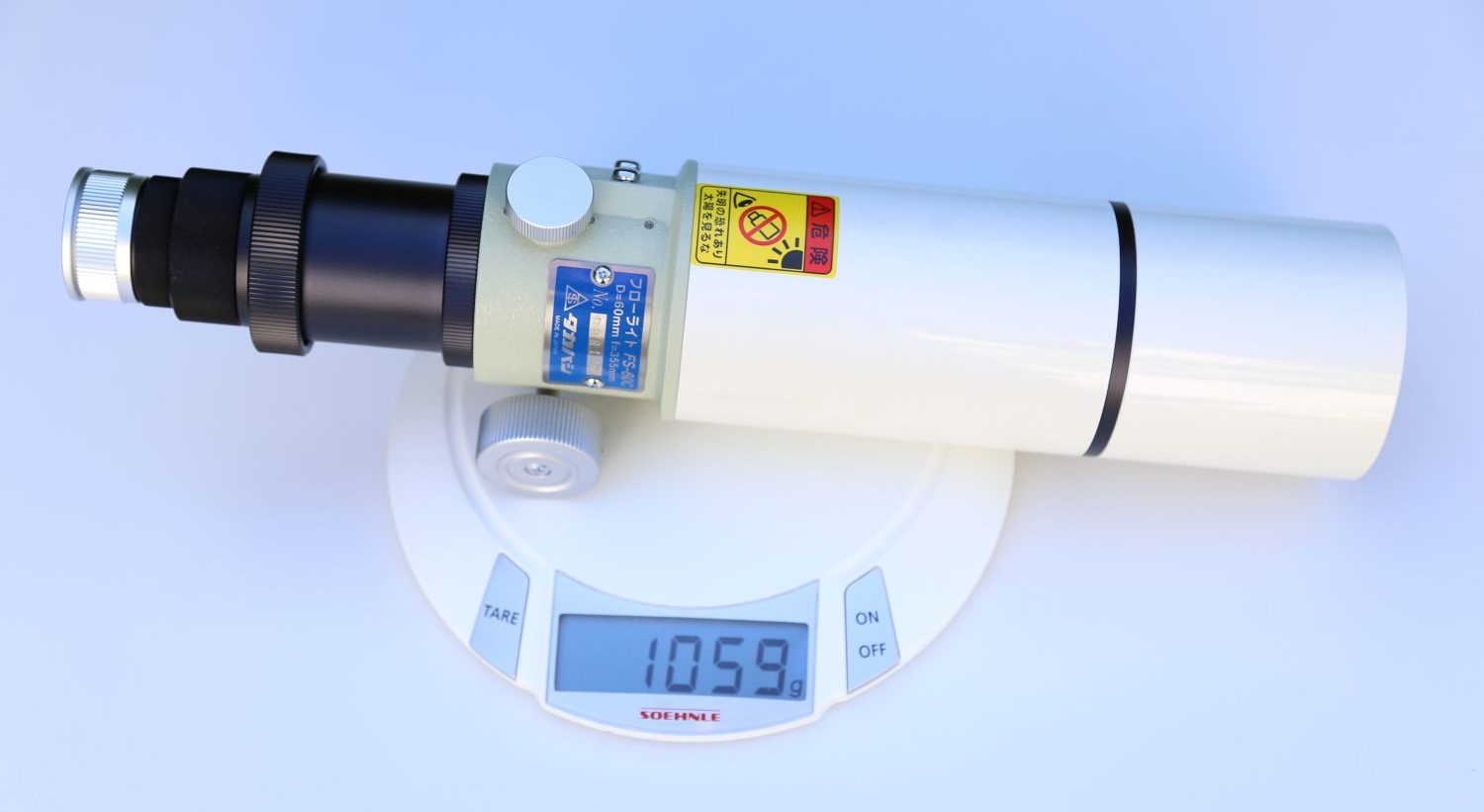 Optical accessories
CQ module: This add-on feature screws in between lens and tube. It houses a doublet lens which increases the overall focal length by factor 1.7. This converts the scope into f/11 at 600mm, the classic long-focus refractor. It adds 330g weight. Takahashi product number is TFK6004QM.
FC-76 objective unit: This unit replaces the 60mm objective lens of the original telescope. Unscrew the objective, and add the FC-76 objective unit, and you have a 76mm fluorite refractor with 570mm focal length. Total weight is 1.8kg.
extender Qx1.6: 568mm, five lenses in three groups. Takahashi product number is TKA00595L.
extender Cx2: This extra add-on will prolong the focal length to 710mm. Takahashi product number is TKA00594.
reducer Cx0.72: Reduces the focal length to only 264mm, working at f/4.4. Takahashi product number is TKA20580B.
flattener: 374mm f/6.0, extends focal length to 374mm, leads to f/6.0. Takahashi product number is TKA20582
You might need additional adapters, especially for astrophotography.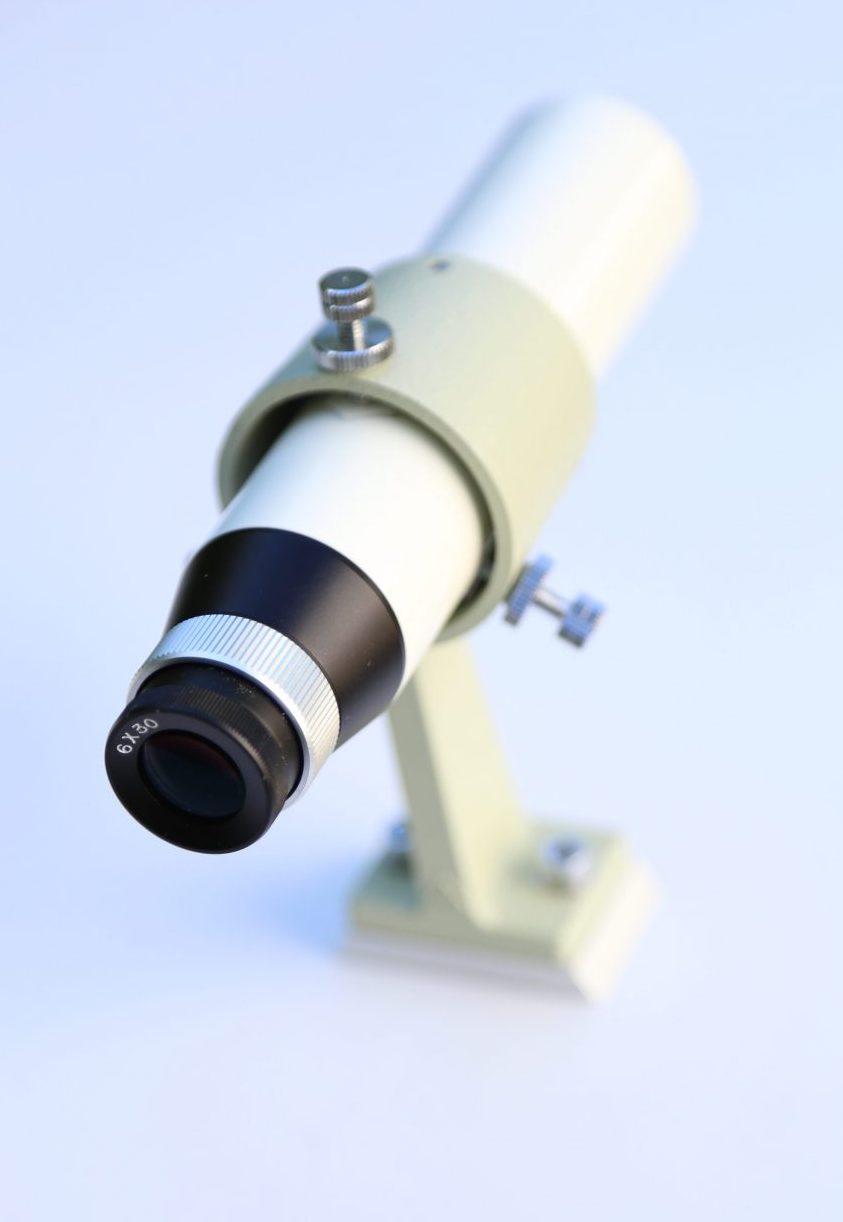 Mechanical accessories
clamshell: fixes the tube to any mount. Must be used, there is no other option available. There are two versions: standard with angled base, this one can be attached to any Tak mount and has a ¼-20 thread. It will offset the telescope towards the top end, which is very helpful due to the low weight of the tube, as it becomes back-heavy even with little eyepiece load. The clamshell has a standard 1/8 thread on top, which will allow to use a camera. The other version, which is rarely sold outside Japan, is larger with a much bigger shell. It will be better especially for photographic use.
finderscopes: there are two options: either the 5×24 (old model) or 6×30 (this one is currently sold) finderscope. Both are only straight through. For visual use, you really do not need any finder. If wanting one, I would recommend using the FQR-1 quick release system, as otherwise it is very uncomfortable to get the finder off the scope quickly. As with everything from Takahashi, this comes with a price, but works beautifully.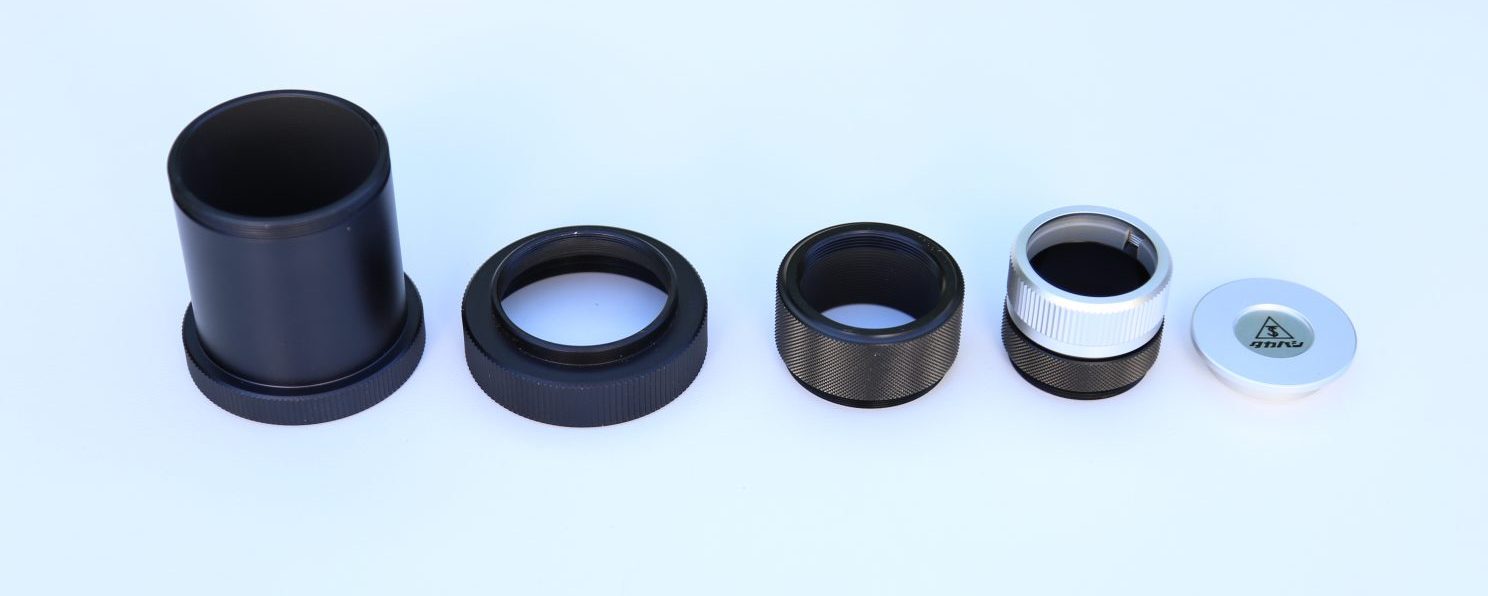 Performance
The wide field capacities are stunning. The FS-60 will reach a 7° field with 2-inch eyepieces and 5° with 1¼-inch eyepieces. To get the maximum wide field experience, you'll need a big (and heavy) zenith prism or mirror, which will add to the back-heaviness of the whole setup.
The results are awesome, especially under dark skies: objects like the North America Nebula, Eta Carinae Nebula and similar are shown in full extent. Use a 2-inch nebula filter to get the best results.
The performance in deep-sky observing is much better than would be expected from a 60mm scope. I remember when bringing the scope to Namibia I was stunned by the resolution of Omega Centauri, the dark lanes in Centaurus A, fine detail in objects like NGC 5189 or NGC 6302, a field full of galaxies in the Fornax Cluster and the color rendition of doubles.
Special fun was to walk through the Large Magellanic cloud and wander around between patches of stars and nebulosity, an adventure which would take a whole evening. This scope is fun, it's more a mental problem of the observer to accept only to look through 60mm.
On the moon, views are crisp and clean. Detail is good, but slight chromatic aberration can be seen at 100× and up. Due to the small aperture, seeing is rarely an issue, and you can push the scope to about 140× easily.
If hunting for fine detail at the limit of resolution, old FC-60 scopes, the precursor of the FS-60, will perform better. With the CQ module, higher magnifications can be reached more easily, but the image does not get better significantly in terms of color.
The first thing you'll notice doing planetary observations: the time needed to cool down is very short, and the scope works even in conditions of –30°C without any problems.
Jupiter is good, with lots of detail including the Great Red Spot and shadows of the moons when in transit. The best magnification is about 100×. The image will get a bit soft at higher powers, if compared to longer focus fluorite refractors, but will outperform any modern ED-apo up to 80mm or even 100mm aperture.
Mars is not as good, the tiny disk requires 200× or more, which the FS-60 can't deliver. Saturn is very nice, and I remember a night of very good seeing in Alice Springs when I could use 142× (2.5mm eyepiece) and the image was beautifully clear and crisp and no false color visible, with the Cassini division sharply defined and the subtle color tones of the rings and atmosphere clearly shown.
Venus is a very tough target for any telescope at night, and FS-60 will show a slight color fringe. It is better to hunt for Venus it the daytime. One of the most amazing views I had was immediately prior to the transit of Venus in 2012 and at lower conjunction in 2014 when the extremely thin crescent could be located very close to the sun.
Observing the sun is the field where I use the scope most, either for white light or H-alpha. The light and compact scope is ideal to check quickly if there's anything to see, and with a decent filter the FS-60 shows granulation and fine sunspot detail, as well as impressive views of prominences, flares etc.
For white light use make sure that the filter you get is optically perfect and does not impair the quality of the image, which unfortunately is true for many glass and film filters.
For H-alpha use, you can attach any 50mm or 60mm front filter unit. Full disk observing will be easy, and there is still enough light for medium power views. I frequently use 7.5mm eyepieces with a Solarscope 50mm filter.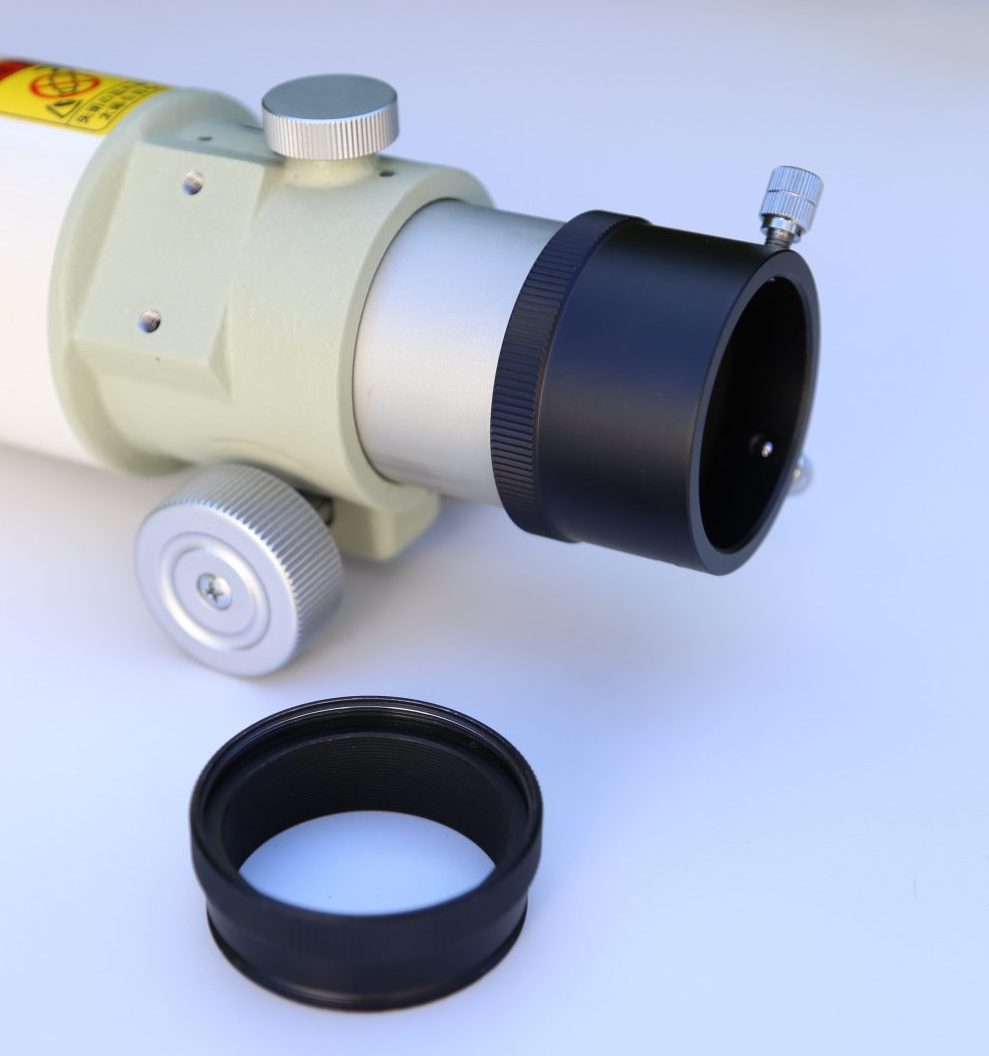 What I like
Travelling: it's compact, it's light, it's sturdy and of high quality, this makes the perfect eclipse scope. I have used it on two solar eclipses and one transit of Venus, and travelled to Namibia and Australia, with the Babytak all along.
I like the feeling to have a good scope with me that gives me the power to watch any celestial event in detail. I rarely miss larger scopes when using the FS-60.
Versatility: I like the modular concept of the accessories that Takahashi has built around the FS-60. There are so many possible setups that I feel I will not run out of options even if my priorities would change.
Quality: This is a high quality scope, and you feel it. I like the thought to have the best scope that you could get for this purpose. The FS-60 is not perfect, though, but it remains hard to find better alternatives.
What I don't like
Actually, there isn't much to dislike here. Any criticism amounts to nitpicking in some degree.
Adapteritis: This is how I call the obsession of Takahashi about different adapters. It really is a science in itself. And there is no way avoiding it.
The focuser of the FS-60 has only 25mm of travel. In contrast, back focus is 151mm from end of focuser. So you will need different adapters for different observing situations to reach focus. I don't like unscrewing adapters during an observing session very much, to be honest.
Accessories recommendations
Eyepieces: to get the largest possible field, use an 40mm 2-inch eyepiece. I would opt for an eyepiece that is not overly heavy. For high powers, do not barlow, use short-focus eyepieces instead. I would like to recommend a Nagler zoom 3-6mm or 2-4mm. I have used a Pentax XO 2.5mm to reach maximum magnification.
Mount: The scope is so light in weight that any photo tripod will be sufficient. For convenience while observing, use a sturdy 2d head made for videography. I would not recommend using a ball head.
To get the best out of the FS-60, mount it to a alt-azimuth mount like the Takahashi Teegul (lapides modification) or anything like it. If you want to use medium to high magnification – and I would advise you to do so – fine movement controls are essential. This is why the Teegul makes a very good choice.
Takahashi also has a matching equatorial mount, the Sky Patrol. This modular mount would merit an own review of itself. It provides fine movement controls, and even a motorized tracking, and fits on every photo tripod.
Price vs. value
The FS-60 is not cheap. The basic telescope is about 850 dollars/pounds/euros. You will need the clamshell, an extra adapter and visual back for attaching 2-inch eyepieces, and more equipment when doing astrophotography, so you'll end up paying in excess of 1000. And it still is only a 60mm scope.
On the other hand, this telescope will be your companion for a very long time if handled respectfully. It is a joy to use, and will add to the fun during those precious moments of a solar eclipse or observing session at the end of the world.
Finally, let me come back to the thought at the beginning of this text: If you are like me, the FS-60 might become the scope you use most often. If that is true, the extra cost while  purchasing it might amortize quite quickly.
Add-on: Reading Takahashi serial numbers
You might want to buy a FS-60 on the used market. Or just want to know how long it spent in the shelf of your dealer.
Each Takahashi telescope is identified by its own serial number. The first two numbers mark the year of production. Mine reads 08, so it was made in 2008.
On the FS-60C currently sold, there's a letter B prefix to the serial number. This designates it as the modified model which is a little bit shorter than the original FS-60.
Links